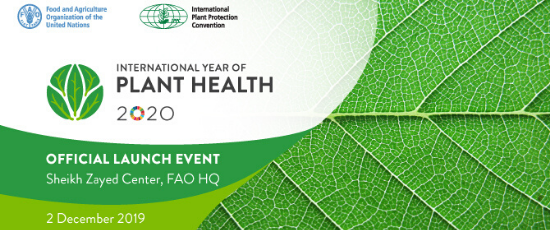 The International Year of Plant Health (IYPH) launch event will take place at FAO headquarters as a special session of the 163rd session of the FAO Council on Monday, 2 December.
The FAO Director-General will open the plant health exhibition at 5:45 pm (CET), followed by the official IYPH 2020 launch event from 6:00 to 7:45 pm.
The programme for the event includes:
FAO Director-General's opening speech
Keynote remarks by the
– Minister of Agriculture and Livestock of Nicaragua;
– Minister of State at the Department of Agriculture Food and the Marine of Ireland
– Permanent Secretary of the Ministry of Agriculture and Forestry of Finland
– Permanent Secretary for the Department for Environment, Food and Rural Affairs of the United Kingdom of Great Britain and Northern Ireland.
Read more on the details of the event: Launch of the International Year on Plant Health 2020 (Website Link)
The webcast of the IYPH launch event will be available at: