Mr. Eric Evelyn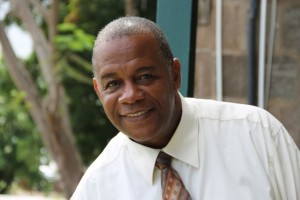 Mr. Eric Evelyn is from Hanleys Road, Gingerland, Nevis. He was educated at the Gingerland Infant, Primary and Secondary Schools and the Charlestown Sixth Form College. He has professional training in General Agriculture after attending the Eastern Caribbean Institute of Agriculture and Forestry in Trinidad between 1985 and 1987 from where he graduated with an Honours Diploma in Agriculture. He also holds a Diploma in Agricultural Extension from The University of the West Indies, St Augustine Campus, Trinidad. He has also attended numerous training workshops in the Field of Agriculture.
Eric has been employed with the Department of Agriculture for the past 29 years and presently holds the position of Permanent Secretary in the Ministry of Agriculture, Lands, Housing, Co-operatives and Fisheries. Prior to this position, he performed the roles of Communication Officer, Communications Supervisor and Officer in Charge of Quarantine.
He is also employed at VON Radio as a part time Disc Jockey and previously worked as a Senior News Editor for over 15 years.
Eric has also been heavily involved in Youth and Community work for over 24 years. He is presently the president of the Empire Sports Club which is based in Hanley's Road. He has held that position for the past 12 years.