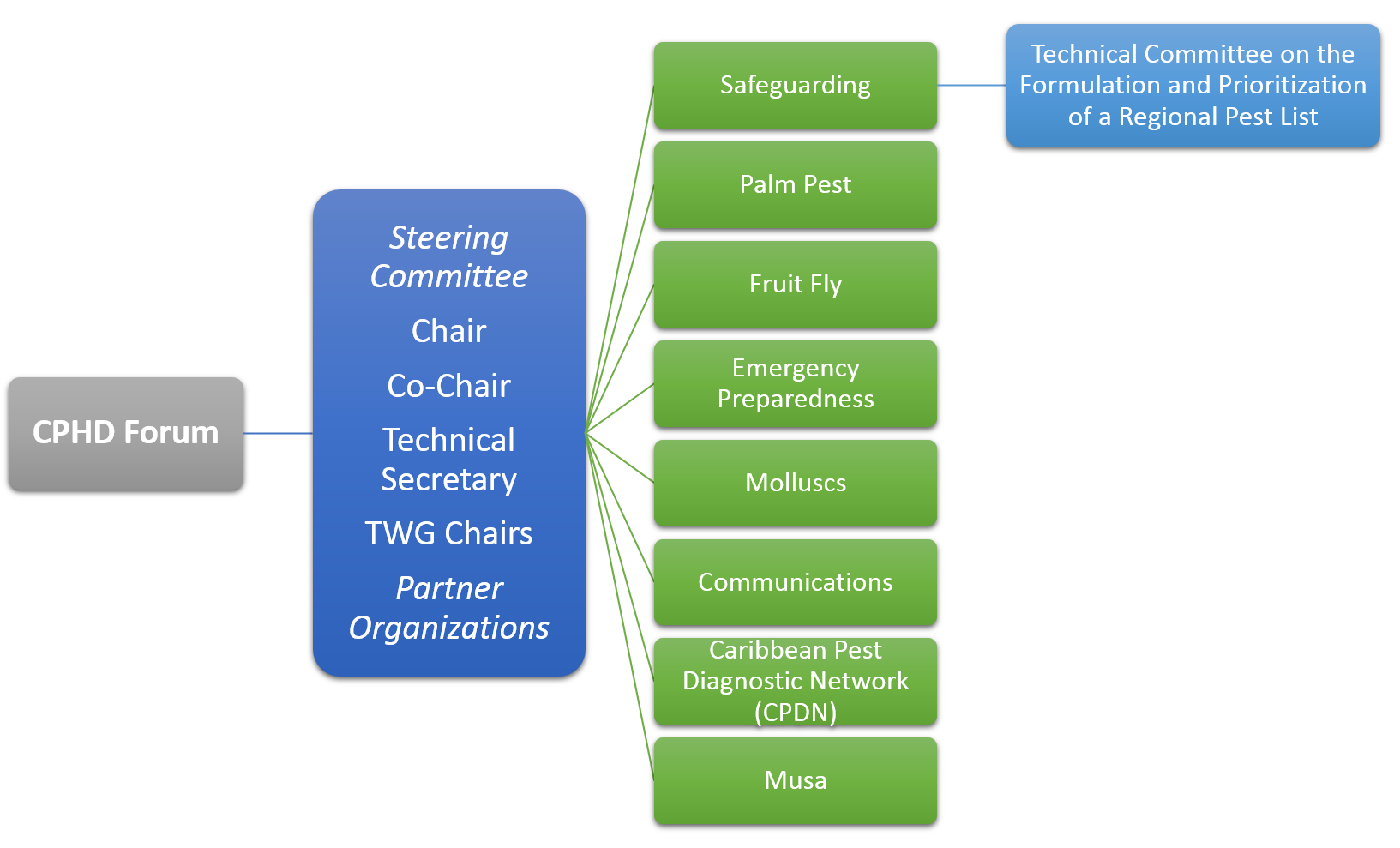 OVERVIEW
The genesis of the Caribbean Plant Health Directors (CPHD) Forum was largely the result of efforts by the United States Department of Agriculture Animal and Plant Heath and Inspection Services (USDA / APHIS) and CARICOM, with support from the Inter-American Institute for Cooperation on Agriculture (IICA) and the Food and Agriculture Organisation (FAO).
A critical goal of the CPHD Forum is to increase communication and the transparent exchange of sanitary information among Caribbean Countries. One of the means of promoting this exchange is through individual and group interchange of information via the annual CPHD Forum Meeting as the Region does not have a regional sanitary organisation as do all other sub-regions of the Americas (e.g. OIRSA-Central America/Mexico/DR, CAN, COSAVE).
As such, CPHDs' drive is to form a plant health organization comprising all Caribbean countries as well as a series of technical working groups under the annual meeting of the CPHD Fourm.
The Technical Working Groups of the Caribbean Plant Heath Directors Forum are:
Emergency Preparedness Plans and Mechanisms for Response
Giant African Snail
Safeguarding
Tephritid Fruit Fly
Palm Pest Complex
Communications
Musa
Two sub-committees in the Caribbean Plant Heath Directors Forum are:
Caribbean Pest Diagnostic Network (CPDN)
Technical Committee on the Formulation and Prioritization of a Regional Pest List
More formally, the CPHD Forum meetings serve as the technical resource base which proposes policy recommendations and apprise the Council for Trade and Economic Development (COTED) (Agriculture) on matters (1) related to safeguarding against and/or minimising the impact of pests and diseases to the Region's agriculture and environment and (2) addressing issues related to phytosanitary measures in trade in plants and plant products.
The First Meeting of the Caribbean Plant Health Directors, was convened at the Caribbean Community (CARICOM) Secretariat Headquarters, Georgetown, Guyana on April 23rd -25th, 2008, in collaboration with the Inter- American Institute for Cooperation on Agriculture (IICA),United States Department of Agriculture (USDA) Agriculture Plant Health Inspection Services (APHIS), the Food and Agriculture Organization (FAO) of the United Nations (UN) , the French Agricultural research Centre for International Development (CIRAD) and Caribbean Agricultural research and Development Institute (CARDI).
To provide an overview of phytosanitary principles for Chief Plant Health Directors and managers from Caribbean countries' Ministries of Agriculture to better enable their countries to safeguard against invasive species from a regulatory standpoint while competing in the international marketplace.
To provide a forum for establishing the technical advisory group comprised of the CARICOM Chief Plant Health Officers which will make recommendations to the Council for Trade and Economic Development (COTED) (Agriculture) for consideration as CARICOM Community Policy, Programmes and Projects on Plant Health in support of the CRISIS and CISSIP.
To form the core of a Regional Plant Protection Organization as required by the IPPC. Its initial focus will be on information and training and will also focus on the Elements of a Caribbean Invasive Species Surveillance and Information Program (CISSIP) :(a) pest survey and inspection, (b) information and communication, and (c) rapid diagnosis
Each collaborator plays a pivotal role towards the CPHD forum and its initiatives.
APHIS mission is to build capacity to address key animal and plant health and natural resources issues for other countries. Also, initiating efforts to protect the United States from dangerous pests and diseases whilst sharing scientific and technical capabilities.
CARICOM Linkages: To assist in the establishment of an effective and efficient national and regional SPS regime for CARICOM countries in order to facilitate domestic and export trade increases while meeting the obligations of the WTO/SPS agreement.
IICA Mission Linkage: To support capacity building for effective implementation of international agreements to achieve a balance between trade and health based on scientific principles.
FAO Mission Linkage: To build a food-secure world for present and future generations.
Plant Health is one of the three pillars of a Sanitary and Phyto Sanitary (SPS) regime that countries are required to implement in order to facilitate trade, hence these meetings constitutes an important activity related to the prevention and management of plant pests affecting the Caribbean region. Over 50 participants including Plant Health Directors and managers from respective Ministries of Agriculture of 25 countries in the Dutch, English, French and Spanish speaking Caribbean attend the Caribbean Plant Health Directors Forum annually.