Webinar: High-risk plants – how does the EU carry out risk assessment of plant commodities?
26 June 2020 – 13:30 (CEST)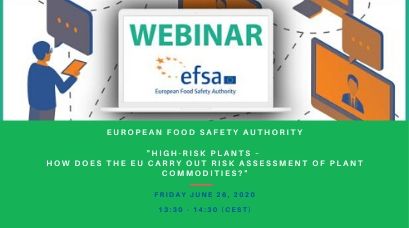 Article 42 of Regulation (EU) 2016/2031 introduces the concept of "high-risk plants", as a group of plants, plant products and other objects whose introduction poses an unacceptable pest risk to the European Union. A provisional list of high-risk plants, published on 18 December 2018, included 35 plant genera and two species. The import of these plants into the EU is prohibited.
National Plant Protection Organisations from third countries can request an exemption from this import prohibition by submitting a technical dossier to the European Commission. This dossier forms the basis of a risk assessment of the specific commodity to be carried out by EFSA.
On 31 October 2018 EFSA published a technical report on the information that had to be included in these dossiers.
Two previous webinars were held – on 12 February 2019 and 17 October 2019 – to help the national plant protection organisations (NPPOs) from third countries with the preparation and submission of high-risk plant dossiers.
This webinar aims to explain to the general public the rationale for this phytosanitary measure and to support NPPOs from third countries in further improving the quality of their dossiers. After one year of experience in risk assessment of high-risk plants, EFSA's scientists have gained important experience that we would like to share with our stakeholders.
The webinar is also part of EFSA's contribution to the International Year of Plant Health.
Register early for this webinar:
During the webinar, participants may submit questions which EFSA will answer orally and in writing after the presentation. EFSA will publish a recording of the webinar.
Agenda
13:30 – 13:35 Background on commodity risk assessment
13:35 – 13:55 EU provisions on High-Risk Plants
13:55 – 14:15 Lessons learned and margin for improvement
14:15 – 14:30 Q&A Session
Note to participants:
For technical reasons, participation is limited to a maximum of 500 participants on a first-come, first-served basis.