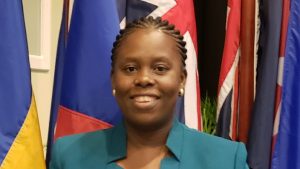 Miss Sanniel Wilson was elected as the Technical Secretary of the Caribbean Plant Health Director's Forum (CPHD) at its 11th session hosted in Montego Bay Jamaica.
Sanniel Wilson is the Chief Plant Quarantine Produce Inspector and the Head of Jamaica's National Plant Protection Organization, the Plant Quarantine Produce Inspection Branch. Miss Wilson is responsible for safeguarding Jamaica from the introduction of regulated pests while ensuring that only the highest quality plants and plant products are exported from the country. Miss Wilson's has responsibility for Jamaica's two Agriculture Export Complexes, the Pest Risk Analysis, Citrus Protection and Plant Quarantine Inspectorate Units. Ms. Wilson also has responsibility for the administration management and oversight for the Cooperative Agreement between the Ministry of Agriculture and the United States Department of Agriculture (USDA) for the operation of the Preclearance Programme in Jamaica.
Miss Wilson also serves as the phytosanitary advisor to the Minister with responsibility for Agriculture, Permanent Secretary, Chief Technical Director, Heads of Divisions/Departments, Agencies and other relevant personnel on Plant Quarantine and SPS related matters. Miss Wilson is also Jamaica's International Plant Protection Contact (IPPC) Contact Point and the Jamaica's representative on the Board of Director's for Caribbean Agricultural Health and Food Safety Agency (CAHFSA). Currently Miss Wilson is one of the Developing Expert for the Standard Trade Development Facility representing the Caribbean Region.
Miss Wilson also has over 6 years' experience as a Pest Risk Analyst for Jamaica's NPPO as was the author of several pest risk assessments conducted for the Jamaica. Miss Wilson also worked as a Consultant in the capacity of Global Gap Implementer with the Agricultural Competitive Programme for Jamaica. Prior to working for the Ministry of Agriculture, Miss Wilson lectured Genetic Biology, Microbiology, Zoology and Biochemistry at the College of Agriculture, Science and Education. Miss Wilson also a teacher and examiner of Biology at the Caribbean Secondary Examination Certificate (CSEC) and the Caribbean Advance Proficiency Examination (CAPE)
Miss Wilson attended the University of the West Indies, Mona, where she earned a First Class Honours Bachelors of Science Biochemistry and Zoology. She also received a postgraduate scholarship from the Australian Government, where she was awarded a Masters in Food Safety and Quality. Miss Wilson has also received certificates from the World Trade Organization (WTO) Sanitary and Phytosanitary (SPS) and Advanced Sanitary and Phytosanitary course.